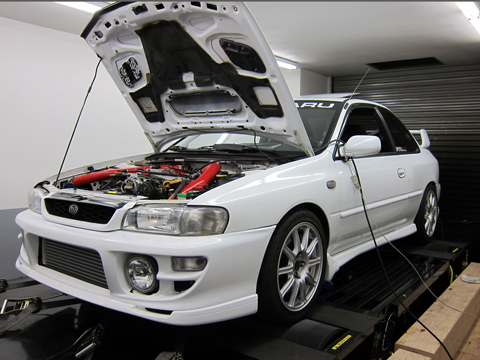 Project Impreza RSX :.
500whp on 92 octane
560whp on e85
Weight 3060lbs

Engine Specs :.
V9 EJ207

FI :.
Full Race EFR 7670 Turbo Kit
Invidia Q300 Exhaust
ID1000 Fuel Injectors
Dual Walbro hanger in tank

Electrical :.
i-Wire swap to JDM V8 EJ207
Link G4 PnP EMS with dual map switch
LC1 WBO2
1200 Watt 9 speaker Stereo System with Molded, Removable Sub Encloser (for track days)

Drivetrain and Suspension :.
2007 STi Transmission with Spec B longer 5th and 6th.
2007 STi Aluminum Control Arms
ACT XT-SS Clutch and Streetlight Flywheel
MAPDccd Controller with 5 modes
TSS Fab Rear Tubular Cross Member with revised lateral link mounting points
TSS Steel Adjustable Lateral Links with Pillow Balls
TSS Rear Trailing Arms
Feal 441 Coilovers
TiC FCAR Bushings
Whitleline Roll Center Kit
Whiteline Front Control Arm Bushings
Whiteline Front 22mm Sway Bar
Whileline Rear 24mm sway bar
JDM STi Titanium and Carbon Fiber Strut Brace
Kartboy Short Shifter
Kartboy Front Stay Bushings
Kartboy Rear Stay
TiC shifter Knuckle bushing
Group N Transmission Mount
BBS 17" STi wheels for DD
Enkei PF01 for Racing

Brakes :.
Brembo 4 pot front calipers
Brembo 2 pot rear calipers
Girodisc 2 Piece Slotted Rotors with Aluminum hats
Ferrodo DS2500 Pads with Girodisc Ti Shims

Interior/Exterior :.
JDM V6 STi Front Seats
JDM V6 Front Lip
JDM V6 Grill
JDM V6 Front Bumper
JDM V6 Rear Bumper
JDM front bumper beam
JDM Rear bumper beam
JDM Aero Mudguards
JDM Rear Spats
JDM Rear Tail lights
JDM Rear Window with Rear Wiper
JDM RB5 Rear Spoiler
JDM V7 Instrument Cluster with 9k rpm Tach